This is a Taiwanese Mini-Van. Look! No car seats!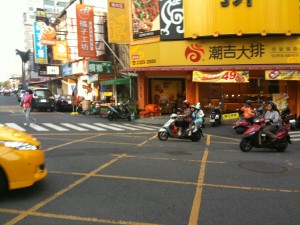 Things I will miss about Taiwan:
Our nanny, sweet Chai Ling
Firecrackers in the street to move out the spirits
Tofu stands
Sofia's best friend Brian and his mommy, Aileen, "The Angel of Taichung"
Walking everywhere and people always around
Waffles in the apartment lobby and the gym
Everything in Mandarin around me so I have the quiet of my own thoughts
The lovely, warmhearted, beautiful people of Taiwan. I love the Taiwanese.
What I Am Excited About Returning To:
Our friends
Our home
Trader Joes
Almond butter
Mrs. Salisbury, the world's greatest violin teacher and Sofia's tutor, Terry
The gardens around our home
Homeschoolers! There are none in Taichung
My vitamix (Never leave home without it)
Raw foods
The woman who does my eyebrows! It's been so long I can't even remember her name!
It's all happening so fast and I'm noticing everything as I spend our last month here. It's a miniature version of life. I wonder if at the end of my life I'll feel the same: "It was such a fun and wild adventure and it went by so quickly."